The latest heated shirt by BERTSCHAT® has been launched. Ideal for wearing under your (work) clothes. Thanks to the two large heating elements, cold shivers are a thing of the past. The heated shirt comes with an additional free battery, which means you can enjoy the warmth for twice as long.
Heating areas
The heated shirt has two large heating areas. One heating area is on the back and covers the entire upper back; the other heating area is on the chest and is the same size as the heating area on the back.
Powerful batteries
The heating areas are large and therefore require a large supply of energy. This heated shirt comes with two batteries, one of which is free. This means you can stay warm for twice as long. Both batteries offer 2,600 mAh, and two batteries allow you to heat for up to 16 hours.
Setting I: +/- 16 hours
Setting II: +/- 8 hours
Setting III: +/- 6 hours
*Number of hours based on two batteries.
Non-stop heating
The batteries can be easily charged with the provided USB charger. This means you can also charge them with a power bank when you are on the move.
Temperature regulation
The heated shirt can be easily adjusted to three different heat settings (I, II, III) by pressing the button on the sleeve. This means you can always set the desired temperature. The heat can reach up to 68 degrees. A free extra battery is included, so you can also heat at the highest setting for a longer period of time.
Suitable for:
The heated shirt can be used for many purposes. It is suitable for anyone who suffers from the cold outside air, but can also be used indoors. It is similar to thermal underwear, which means it can be worn perfectly under your (work) clothes or during winter sports, hiking, cycling, sports and fishing.
You can complete your set with a pair of heated pants.
Size chart: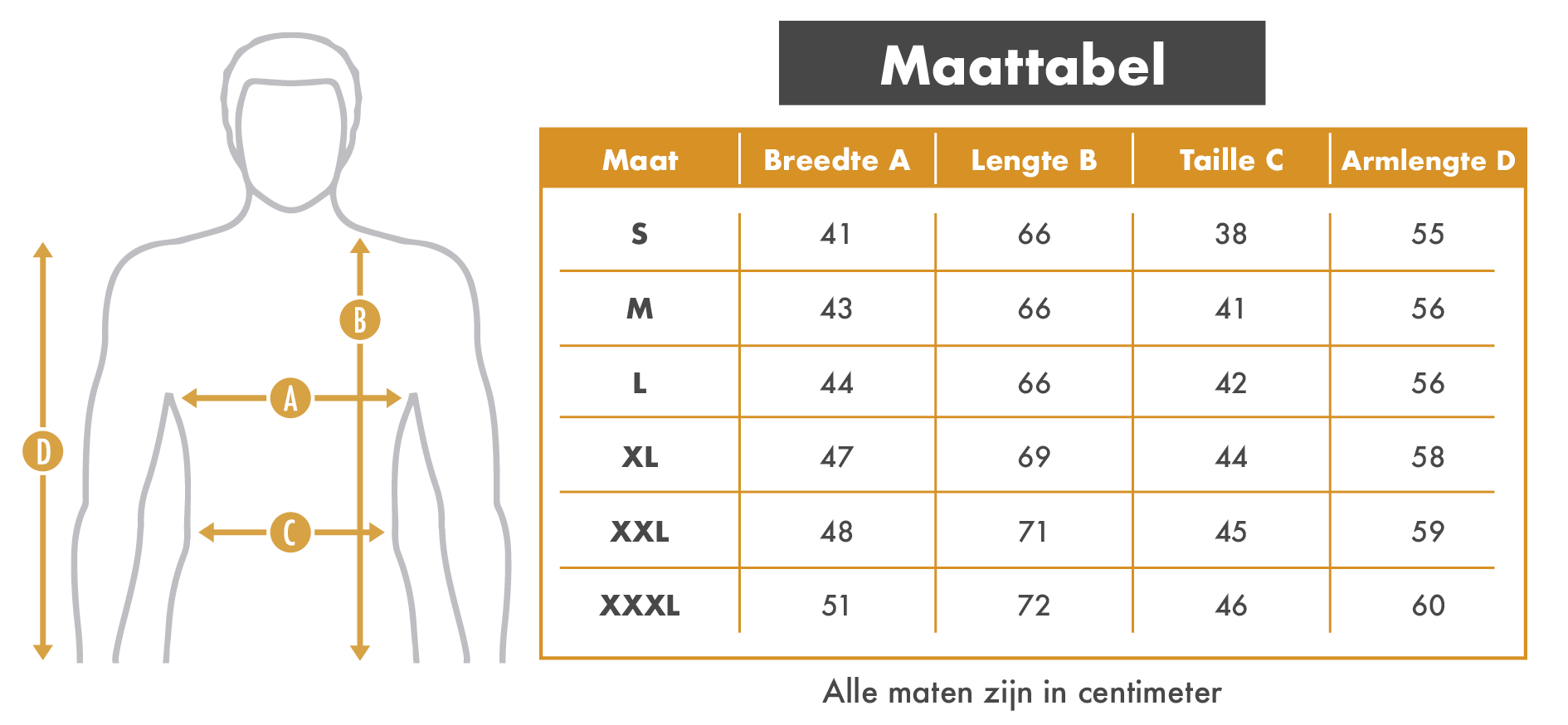 Features:
Including: 2 rechargeable batteries (7.4V, 2600 mAh) + charger.
Material: 90% cotton, 5% polyester, 5% Elastane and Antibacterial
Two large heating areas
Colour: Black
Temperature up to 68 degrees
USB rechargeable
Washable
Unisex model