BERTSCHAT® has designed a new PRO cycling glove: the solution to no longer experience cold hands during your bike ride. As well as being wind and waterproof, the cycling gloves features the unique Dual Heating technology, heating both sides of the hand simultaneously.
Always the perfect temperature
Both sides of the hand are independently heated and adjustable at three different heat setting. Therefore, you can always find and the right temperature for you needs. With the simple push of the button, you turn them on and set the right temperature. The heating surfaces extend all the way from the wrists to the fingertips on both sides of the hand, palm and back!
High-quality flexible material
This PRO Edition from BERTSCHAT® features a water and windproof layer so that you can enjoy warm hands even in the rain. The cycling gloves are very flexible and conceived in a way that won't hinder operating your gears with ease. The extra protection at the palm makes for an excellent grip on the handlebars.
The gloves feature the breathable membrane HIPORA®. This is a waterproof and breathable layer that prevents water getting in from the outside into the gloves as well as letting moisture escape from the inside. This way damp hands are kept to a minimum.
Powerful batteries
These cycling gloves can reach temperatures of more than 68 °C in optimal conditions. Due to the large heating surfaces, the gloves come standard with extremely powerful batteries. At the warmest setting with both top and bottom heating on, these gloves can provide unmatched levels of heat.
As standard, this set comes equipped with the 7.4V - 2,600 mAh battery pack.
With this pack, you can expect heating for up to 8 hours depending on the selected mode single/dual heating and the temperature setting. If you'd like to heat your hands for longer or if you intend on uising them in extremely cold temperatures? Then we recommend opting for either the 3,000 mAh or 3,800 mAh battery packs.
We also separately offer additional batterie packs. A spare battery pack makes it possible to heat indefinitely, so to speak. Due to their USB compatibility, you can simply charge them by means of a power bank or any USB connection. Both an extra battery pack and a power bank can be ordered at a reduced rate in the combi deals.
Good to know:
Wearing heated gloves/clothing indoors allows you to turn down the thermostat because it's no longer necessary to heat an entire room. This greatly benefits your energy bill.
Features:
Includes two rechargeable batteries (7.4V 2,600, 3,000 or 3,800 mAh) and charger.
Two large, unique heating elements surrounding the entire hand, including fingertips - Dual Heating
Wind & waterproof layer
Hipora® waterproof and breathable membrane.
Touchscreen: You can use your phone/tablet with the cycling gloves.
USB rechargeable
Extra attention for optimal grip.
Waterproof zip with lockable compartment for batteries.
Flexible: ideal for operating your bike/scooter.
Up to 8 hours of heating on a single charge
Unisex model
Durable
What is the right size for me?
The correct size of your gloves is easy to measure. Spread your fingers as shown and measure the circumference.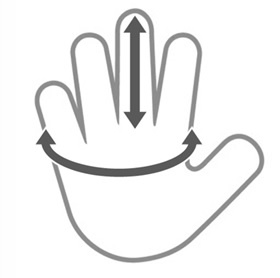 Size M: Most commonly chosen by women.
Size L: Most commonly chosen by men. 
| | | |
| --- | --- | --- |
| SIZE: | Middle finger length (CM) | Circumference (CM) |
| XS | 7.5 | 15 - 17.5 |
| S | 8 | 17.5 - 20 |
| M | 8.5 | 20 - 22.5 |
| L | 9  | 22.5 - 25 |
| XL | 9.5 | 25 - 27.5 |
| XXL | 10 | 27.5 - 30 |
| XXXL | 11 | 30 – 32.5 |